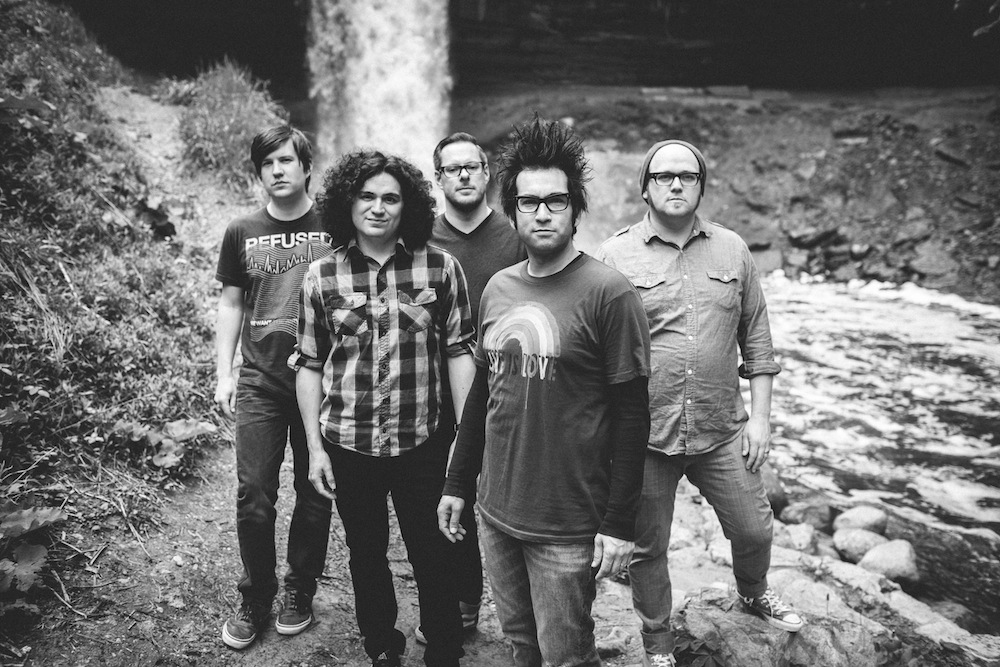 MOTION CITY SOUNDTRACK
Motion City Soundtrack
"I am the Movie"
by: Sun-J
Just to give a quick background on Motion City Soundtrack, the band originally stemmed from high school friends, guitarists Justin Pierre, and Joshua Cain. After recording a 7" in 1999 in a band and going through a number of lineup changes, the main two eventually found their sidekicks in drummer Tony Thaxton, bassist Matt Taylor and keyboardist extraordinaire Jesse Johnson. The three J's; Jesse, Justin and Joshua hail from the state of 10,000 lakes (or whatever ridiculous number of larger ponds they claim to have), while Tony and Matt moved to Minnesota from Richmond, Virginia. After gelling together as a group and finding the yin to their yang, the group headed out to Kansas with fast cash and huge hopes. They hooked up with producer Ed Rose (Get Up Kids, Ultimate Fakebook, The Anniversary) and soon developed what is now known in the soundscan world as I am the Movie.
Motion City Soundtrack is a mix of punk and rock with hints of Weezer and obvious influences from U2, Sugarcult, Jawbox and The Get Up Kids. Ironically these kids grew up listening to an eclectic variety of music ranging from Run DMC, The Beastie Boys, techno, Elvis Costello, and even Huey Lewis. Distributed through Epitaph, I am the Movie is an urban rock collection of synth affected punk music toddling the thick line between poppy and post-hardcore.
"My Favorite Accident," which was singled, is a repeated tale of lost love with a romantic twist to it. Powered by curious guitar and insightful lyrics, "it got the message long before you said you knew. There was no chance of us at all…. So we were an accident you'll always be my favorite one," the song opens up with a peaceful synth driven piano measure before diving into a western influenced blend of guitar riffs. "The Future Freaks Me Out," is a fun, 80's-like song, with a catchy drum loop and party hinged lyrics. The most tickling part of the song may be the French Canadian sung chorus, "I'm on fire, and now I think I'm ready, to bust a move; Check it out I'm rockin' steady to the beat in my head that goes oh oh oh oh, I know that she's the only one I'd rather waste our time together yeah: cause we can get down." "Indoor Living" is a track that highlights Justin Cain's better voice, as he harmoniously belts alongside a palm muted guitar riff hidden between foot tapping drums and almost vocodor synth keys, with an electric guitar break down. "Don't Call It a Comeback" is the most hyped song, due to the pleasant quick paced drumming. "Don't call it a comeback, no…this witness was injured and overthrown away, this time it's the last dance, so come on by will alone we set our minds in motion." "A.O.K." opens up with a powerfully sung verse, "This time I thought I'd listen and the story goes I am the same ; Without medicine, I can't pretend it never ends I'm fine, I'm fine these words are all I've got to hide behind, so get behind me you have no right to say." This song is a refreshment from the heavily synth influenced instrumentation, as it breaks off into solo guitar licks after the lead verse.
In the end, I am the Movie is comparable to the Pinkerton album put out by Weezer. The LP is a fair debut by an up and coming band, though the record gets tiresome as the instrumentation grows repetitive mainly because the synth keys are rarely, substantially changed, though the lyrics are astonishingly strong. Touring with Sugar Cult over in the UK, these characters are primed for success. If you are into the 80's, and enjoy punk music minus bubble gum, blink 182 lyrics, then this band is a great pick.