Kickstand Productions & Bottom Lounge Presents
Zeal & Ardor, Sylvaine, Imperial Trumpant
with
Zeal & Ardor
,
Sylvaine
,
Imperial Trumpant
Mon
09/19/2022
7:00 pm
CDT
(Doors:

6:00 pm

)
Ages 17 and Up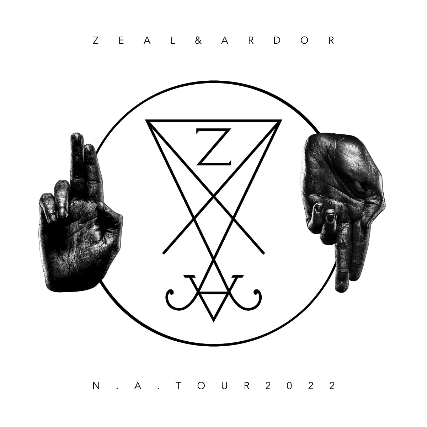 $25.00
Zeal & Ardor
Zeal & Ardor's widely praised second album, Stranger Fruit, was released by MVKA in 2018, following the global attention-getting, multi-million streamed debut Devil Is Fine. Critically acclaimed across the industry, The Guardian newspaper described Stranger Fruit as "extraordinary and brilliant" upon release. Upset wrote it was "a compelling listen," Metal Hammer applauded its "sheer musical brilliance," with Rock Sound concluding, it was "one of the most uniquely daring and wholly affecting albums of 2018 so far," plus further plaudits rolling in from SiriusXM, Rolling Stone, Kerrang!, Noisey, Alternative Press, Revolver, Pitchfork, and more. By Christmas 2018, the UK's largest free newspaper Metro declared Stranger Fruit their #2 Album of the Year in a cross-genre list, declaring "in this jaw-dropping meld of black American folk music and black metal, the Swiss artist Manuel Gagneux has hit upon something genuinely original." In March 2019, following a blistering set in London the previous December, the band went on to release the double live album Live In London. Then, in October 2020, amidst a provocative and stimulating 18-month profound period of reflection — that led to the writing of the forthcoming self-titled album — the band quietly shared the striking, standalone 6-track EP Wake Of A Nation. Their intense third album, crystalizing everything the band is, will be released in February 2022.
Sylvaine
A strong duality between worlds. A balance between the beautiful and the harsh, serenity and chaos, between an outside and an inner world, between our human life and the spiritual origins. Norwegian multi-instrumentalist Sylvaine's music deals with the extreme range of emotions this human existence has to offer, as a result of being in constant conflict with oneself and struggling to adapt to this place we call our own. The project serves as an emotional catharsis for the artist, revealing the eternal longing for something more residing within its melodies, capturing the feeling of being trapped and restraint by the human form.
In the U.S., we have a tendency to clarify bedroom pop as music that is composed in the feminine space of one's bedroom confines. Although orchestral and incredibly composed, Sylvaine does not shy away from admitting her songs always start bare bones—almost all of her compositions begin with an unplugged electric guitar. "A melody and a chord progression should be able to stand on its own without any effects whatsoever. The song will go on to manifest itself in different ways but that main guitar part has to be solid enough to emotionally work just by itself " she says.
But to this lover of Verlaine and the French Romantic poets (as well as a diehard Type O Negative fan), the written word is still paramount to her heart. After all, she explains, "Music is an attempt to avoid the words we can't always express in life."
Imperial Trumpant
Born in Metropolis: Imperial Triumphant embodies thesounds of New York. As are our diverse musical influences, we hear thechaos, the menagerie, the perils, and majesty of the apex of civilization. Ourmusic reflects high societal luxury juxtaposed against the absolute filth &urban decay that makes up Gotham City. Like the corpse of a giant; What wasonce so bright, grand and spectacular, is now filled with greedy maggotswrithing towards their share of 'success'. We don't support it nor are weagainst. We only play the sounds of New York City as we hear them.Imperial Triumphant have released four full length LPs and two EPs since2012. The band has been touring around the world in support of theirmusic and gathering fans. Their last album ALPHAVILLE landed them on thecover of Decibel Magazine as well as numerous top ten lists for album of theyear. The band is currently working on their next album to be released on CenturyMedia Records.