Kickstand Productions Presents
Against The Current, Trophy Eyes, Yours Truly
with
Against The Current
,
Trophy Eyes
,
Yours Truly
Mon
05/08/2023
7:00 pm
CDT
(Doors:

6:00 pm

)
All Ages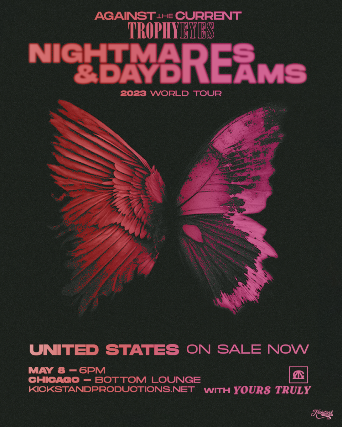 $25.00
Against The Current
In the past few years, Against The Current has evolved from an upstart band to an unstoppable, hardworking trio ready to take over the world with their debut album of intelligent pop songs. The band, formed by Chrissy Costanza, Dan Gow and Will Ferri in 2011 in Poughkeepsie, NY, unveiled their first song, "Thinking," in mid-2012 and self-released two Eps in the years that followed. Their most recent, Gravity, sent the band on a world tour, playing venues across the U.S., Europe and Asia and selling out shows everywhere from Tokyo to Amsterdam to Paris. Now, as they prepare to release their debut album, Against The Current finds themselves a more practiced and thoughtful band.
The trio headed to Los Angeles in May of 2015, armed with a few ideas but no real preconceived notion of what their album should sound like. The musicians spent most of the summer in the studio with Tommy English, the producer who had also worked on Gravity. The band didn't really even consider any other producers because they knew they wanted to be back in the studio with Tommy, who has helped Against The Current explore new ways of expressing their sound. In the end, the experimentation and exploration paid off creatively.
"None of us knew what the record would become," Will says. "To me that was the most exciting aspect of the whole process. We didn't set any boundaries for ourselves. We just went in with one common goal: make an incredible first record. We knew we wanted to approach things with a classic but modern feel. We were also lucky enough to work out of an amazing studio filled with dozens of vintage synthesizers and you can hear a lot of '80s analog synths on the record. That really opened up a whole new world of sound for us." Dan adds, "It was really interesting to watch everything come together in such an organic way as our writing style developed."
Lyrically, Chrissy took inspiration from other music and books she was reading, and drew a lot from her own experiences. Because the musicians are so close in age to their fans, they wanted to ensure that their songs expressed something relatable, whether it's the feeling of anxiety in "Demons" or the feel-good hometown reunion of "One More Weekend." All of the album's emotion, good and bad, is meant to leave the listener feeling connected in some way. "To me, the songs say 'We're going through this too but we're going to get through it together,'" Chrissy says. "Our sad songs are not just sad. They give you resolution and let you feel lighter when you hear it."
The album as a whole encompasses a range of feelings and experiences, as well as stylistic tones. "Young & Relentless" is buoyant and propulsive, a bounding pop rock track with an immediate chorus, while anthemic pop number "Forget Me Now" is what Will calls "a look into the past, present and future of our lives." "When writing it we reminisced about our high school experiences and imagined what it may be like going to our high school reunions and pointing a finger at everyone who tried to bring us down," he adds. "It has a great pop simplicity and feel-good energy. It just feels like the start of a story." The band reveals their softer side on "In Our Bones," an acoustic charmer with an immediate chorus that aptly showcases Chrissy's voice. The levity and cathartic release imbued in the album is also present in Against The Current's live show, which amps up that feeling of being relatable.
"As with the new album we want our live show to be an experience," Chrissy says. "We want the crowd to take this journey with us through each song and be fully immersed in it. Ultimately we want the fans to leave feeling better and lighter. We want the happy songs to resonate with people and we want the heavier songs to give them a sense of release, like it's okay to feel like this and it's not the end of the world. We want them to have the best possible experience." Dan adds, "When we're on stage the most important thing is for the fans to connect to the music and to us."
Against The Current's connection to their fans is as essential to their success as the music itself. In the past few years, the band has built an immense following on social media and aim to bond as personally as possible with everyone. The band currently boasts over 1.3 million YouTube subscribers and 137 million channel views, while Chrissy has over 1.3 million Facebook likes, 832,000 Instagram followers and 411,000 Twitter followers.
"If we can get the audience as immersed in what we are doing as we are then I think we have something really special," Will says. "With this record we hope to create a new world for our listeners and we hope we can capture that same effect live. Our goal has always been to just keep outdoing ourselves and hopefully get as many people as possible to come along for the ride."
Trophy Eyes
Hailing from Newcastle, Australia, Trophy Eyes stitch together emotionally driven lyrics with aggressive pop based punk in a style that is uniquely their own. The five-piece quickly outgrew their sleepy harbour city in 2013 after the release of their debut EP, Everything Goes Away, which caused a ripple in a scene that wasn't ready for them. Powered by vocalist John Floreani's deeply personal lyrics, Trophy Eyes' message quickly spread outside of Australia and connected with a loyal following worldwide.
In late 2013, Trophy Eyes took their message on the road, supporting UK pop-punks Neck Deep on their Australian tour as well as being chosen by triple j to play Soundwave Festival in 2014. Soon after, the band were picked up by USlabel Hopeless Records, home to New Found Glory, All Time Low, Taking Back Sunday, The Used and more. They kept up the momentum with a slew of their own headline tours and impressive support slots, notably touring with Australian rock giants Violent Soho.
Their highly acclaimed debut album, Mend, Move On, was released in late 2014, which earned them Blunt Magazine's "Best Newcomer Award" in their annual Readers' Choice Awards and set the stage for a massive 2015, playing 130 shows across 21 countries. Fans across the globe got to witness Trophy Eyes energetic and impassioned performances with Neck Deep in the UK, during a headline tour of mainland Europe with As It Is as well as a full North American Vans Warped Tour across the ocean. Eventually the band went home and did several laps of Australia before returning to the UK and Europe for Warped Tour and supporting Anti Flag later that same year.
Trophy Eyes kicked off 2016 by setting off a dust storm at Unify Gathering 2016 with Australian Heavyweights Parkway Drive, Tonight Alive and Hands Like Houses. The charge is set to continue as the band were recently announced as the main support on the sold out The Amity Affliction Australian tour.
Yours Truly