Bottom Lounge and Kickstand Productions Present
Belmont, Can't Swim
with
Belmont
,
Can't Swim
,
House Parties
Fri
10/20/2023
7:00 pm
CDT
(Doors:

6:00 pm

)
All Ages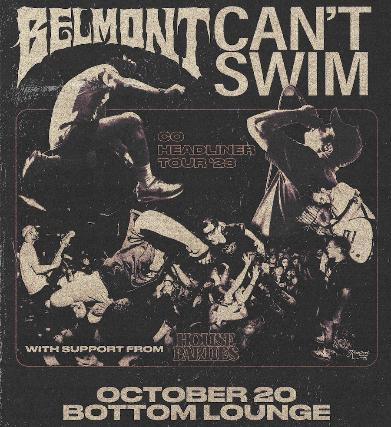 $25.00
Belmont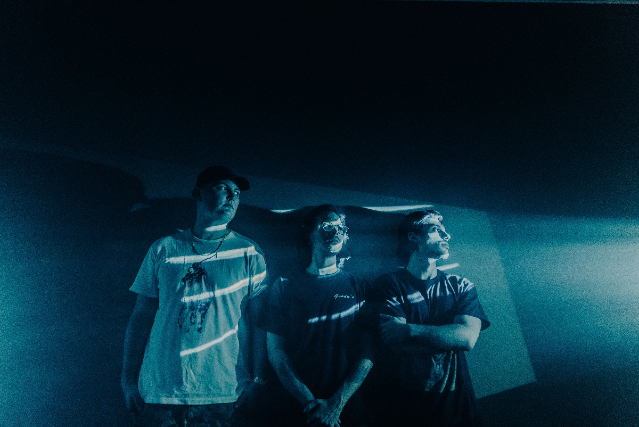 Can't Swim
"Things aren't going to get better. Not everything heals with time and problems don't just go away. Problems haunt you, infect you, and in time become a part of who you are. You might find ways to distract yourself or try and forget but every time you look in the mirror you'll only see reminders of what you hate. Evil surrounds us and in time, becomes a part of who we are. Let this band be a reminder of that."
Towards the end of Chris LoPorto's description of his band Can't Swim, you'll note the use of the word 'evil'. He couldn't help gravitating towards it during the making of their second album, to such a degree that the working titles of its songs were littered with it; a catch-all word that summarized the malevolence he felt about a number of elements in his life, be it the events of a past he continues to be governed by, and the wrongdoing he's observed in his immediate surroundings and society as a whole.
This Too Won't Pass was that album's eventual title, an inversion of a well-known adage about time healing all things, because, as Chris suggests, he doesn't entirely believe it can. Can't Swim articulate our struggles with the people, places and events that continue to shape our lives and scrape our hearts, but with one clear distinction: they show us that while exploring them may provide us with a momentary sense of clarity, it doesn't necessarily bring us the clear-cut catharsis we're told it will.
It's for that reason that This Too Won't Pass finds Can't Swim continuing to mine the vein of pain and sadness opened open on their debut album, Fail You Again, but that's good news for those given comfort by that critically acclaimed act of bloodletting.
Despite having such an intense output, Can't Swim's formation was a relatively straightforward one. ("There's no crazy Black Flag-type story," says Chris.) The band grew up in Keansburg, New Jersey on a diet of bands that were musically aggressive, lyrically introspective, or both. If that seems like an obvious starting point, it wasn't; Chris didn't have designs on being a songwriter from an early age, nor indeed a singer or guitar player.
Inspired by his drummer uncle Mike, who played in local bands The Brutally Familiar and The Piss and toured with the likes of Bad Brains and Gorilla Biscuits, he started out behind the kit. Despite playing in a number of punk bands, Chris had the opposite of the punk mindset. He was an obsessive and fastidious student, practicing endlessly and spending the little money he had on VHS tapes to play along with. By the time he started programming drums and recording the efforts of other bands, it became clear Chris's ambitions were beginning to outstrip his initial instrument of choice. "I'd played drums for 15 years and think I used them as a crutch," he says. "Can't Swim was my motivation to learn more. I borrowed a guitar, moved my fingers like an idiot for hours and wrote some songs."
The resulting songs impressed Chris's close friends, guitarist Mike Sanchez, bassist Greg McDevitt and drummer Danny Rico, who'd bring them to fuller life on Can't Swim's debut EP, Death Deserves a Name, which soon caught the attention of Pure Noise Records, who signed the band. Despite having never played a live show at that point, the EP saw the arrival of their sound fully formed: stabbing riffs informed by Chris's rough – almost resentful – playing style, and lyrics focussed on those experiences that leave us with sharp pains that may lessen to dull aches over time, but never go away. It's no coincidence that Chris's ex-girlfriend was on the EP's artwork.
She was also on the cover of full-length debut album Fail You Again, which was once again produced by drummer (and now guitarist) Danny Rico and brought Can't Swim to the attention of a wider audience. Chris thought it would, not just because he knew if he was a kid in his late teens or early twenties those songs would mean something to him, but because the subject matter continues to affect him to this day.
There are, however, still deals with the topics that continue to keep Chris awake at night and fans gravitating towards his band. My Queen is, Chris says, a typical break up song that finds him facing up to, and coming to terms with, the fact he's generally responsible for the end of his relationships. As if to illustrate the point, "sometimes you meet the right people at the wrong times" is named after the words written on the back of a photograph given to him by an ex-girlfriend as a parting gift after he broke things off.
Meanwhile, the final track, Winter of Cicada, harks back to the pivotal relationship of Chris's life, with the ex-girlfriend from the cover of Death Deserves a Name and Fail You Again – much to his frustration. It includes the lyric 'How can I be sure it gets better? I've written every word, every letter' and concludes with the words 'Forever in regret'.
Listeners certainly won't regret continuing this journey with Can't Swim, because it's delivered by four people that are perturbed by how much meaning and integrity has taken a backseat in music and are keen to re-establish it front and centre. This Too Won't Pass is an album made by people for whom music means everything and want their music to mean the same to others. Thankfully, given the uncontrollable energy and unbridled honesty on display here, it's likely they'll get their wish.
House Parties