Summer Salt

Dante Elephante

Motel Radio

5:30 PM Doors / 6:30 PM Show

BUY TICKETS

[mashshare]
Summer Salt
Anyone entering Bottom Lounge after October 1, 2021 will be required to show proof of full vaccination for entry. We will no longer accept a negative COVID test after this date. Final dose of vaccination must be received no less than 14 days prior to the event. We will accept a hard copy of your vaccination card, a printed photocopy or a digital image on your phone, and must match your Government-issued ID.
Dante Elephante
A music writer once criticized Santa Barbara while taking a stab at another band from the city by saying, "since it's near wine country rather than Orange County, it lacks the stifling suburbia that can generate great punk music as a response." Generalization or not, this statement rang true for Ruben Zarate, singer and songwriter of Dante Elephante, spending his formative years surrounded by peers whose tastes didn't deviate much from the local college party bands and Cali-reggae that has long defined the musical landscape of the town. Add to that the fact that Zarate is actually from the far less know neighboring town of Goleta, the proverbial "other side of the tracks" defined by a hazy boarder of diminished opulence. Goleta certainly lacks the affluence referenced in the aforementioned critique, and is best exemplified by the Blue Skies trailer park, who's sign is memorialized on the cover of the Atari's"Blue Skies, Broken Hearts" record."
Goleta is small town through and through. Goleta is the kind of place where in one year of high school Zarate got pulled over 16 times driving his dad's Suburban (no pun intended) home at night after work simply because it had tinted windows and after-market rims. Despite its lack of diversity and cultural stimulation, Zarate managed to avoid complacency and kept from having his musical tastes dictated by the scene around him. Instead, he dove deep into dusty old record collections, discovering and falling in love with the work of classic songwriters like Brian Wilson, Harry Nilsson, John Lennon, and Alex Chilton, and the post-punk weirdness of Orange Juice, The Pastels, The Pixies.
By the time Zarate established Dante Elephante as a full blown project in 2010 he had already done his time and paid his dues toiling in less than ideal musical projects playing the unfulfilling party music circuit in Isla Vista, home of one of the top party schools in the country. Inspired to play and write music from an early age by his grandmother, a multi-instrumentalist, and his grandfather, a self-proclaimed poet, as well as his many musician cousins, Zarate was left feeling unfulfilled. However, a shot-in-the-dark Craigslist post yielded responses from UCSB students Kevin Boutin, Tommy Devoy, and Chris Lopez, all who proved to be unlikely-yet-true musical co-conspirators for Zarate. With the newly formed Dante Elephante, Zarate was finally able to explore his musical interests and shine as a timeless songwriter in the vein of his influences.
​In spite of the aforementioned journalist's assessment of the disconnect between Santa Barbara and Orange County, Zarate and company found a home and kinship with the LA-based, Orange County transplants running Lolipop Records, and released the surf-tinged "German Aquatics" cassette EP with them in 2013. Soon after, they took a new batch of songs into the home studio of producer Jonathan Rado (one half of Foxygen), who stripped away a bit of the surf sound and helped Zarate tap deeper into his longtime influences, a task made fairly easy due to the overlap of many of Rado's own musical heroes. The resulting LP, Anglo-Saxon Summer, is Dante Elephante at it's most fun, most exacting and most sincere — punk at heart, but with a timeless, organic sound, accentuated by Rado's key work. At its heart, as will always be, is Zarate's own songwriting fingerprint. His suburban upbringing has forever wormed it's way into the core of his art, where it serves as the catalyst and context for many of Zarate's themes. His ability to craft an anthem based on the mundane day to day, turning the trivial into the substantial, essentially making a song about nothing (in the Seinfeld-ian sense) puts Zarate's songwriting in the category of some of those other great poets of suburbia, Jonathan Richman, Stephen Malkamus, and Rivers Cuomo; its essence being the trials and tribulations of a small town existence, universal and workaday, yet cinematic and poetic.
BUY TICKETS
Motel Radio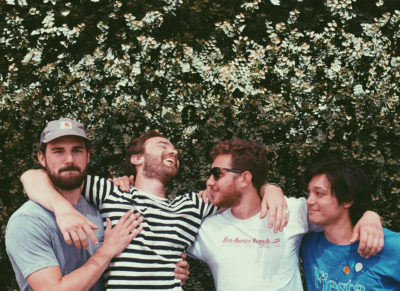 Motel Radio is an indie rock band hailing from New Orleans, Louisiana. The band was born out of a songwriting collaboration between college roommates, Ian Wellman and Winston Triolo, that has since grown into a full band consisting of Eric Lloyd (drums), Andrew Pancamo (bass), and David Hart (keys).
Early writing and recording culminated in the summer of 2015 with the band's independently released EP "Days and Nights". The EP earned them supporting slots for national acts such as Drive-By Truckers and Kurt Vile in addition to festival performances at Firefly, New Orleans Jazz and Heritage Festival, and SXSW among others. The band was named "Best Emerging Artist" at the 2016 Big Easy Awards in their home town of New Orleans.
Motel Radio's atmospheric, harmony-driven sound and unique dual frontman arrangement garnered the attention of Roll Call Records, who released their EP 'Desert Surf Films' in September 2016.
BUY TICKETS